Incisional Hernia
WHAT IS A VENTRAL OR INCISIONAL HERNIA?
A ventral hernia is a bulge or protrusion through the abdominal wall. When this occurs due to a previous operation this is called an Incisional hernia.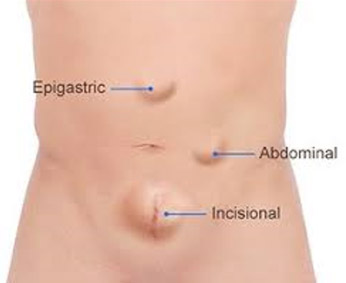 Other sites of abdominal wall hernias may be the groin (inguinal hernia or femoral hernia) or bellybutton (umbilical hernia)
HOW DOES A VENTRAL OR INCISIONAL HERNIA OCCUR?
When a ventral hernia occurs, it usually arises in the abdominal wall where a previous surgical incision was made. In this area the abdominal muscles have weakened; this results in a bulge or a tear. This causes the inner lining of the abdomen to push through the weakened area of the abdominal wall to form a balloon-like sac. This can allow a loop of intestines or other abdominal contents to push into the sac.
WHAT PROBLEMS DO VENTRAL HERNIA CAUSE?
Ventral hernias may cause pain or be quite unsightly.
Overtime they tend to enlarge and become more prominent
If the abdominal contents get stuck within the sac, they can become trapped or "incarcerated." This could lead to potentially serious problems that might require emergency surgery.
A hernia does not get better over time, nor will it go away by itself.

HOW DO I KNOW IF I HAVE A VENTRAL HERNIA?

A hernia is usually recognised as a bulge under your skin. Occasionally, it causes no discomfort at all, but you may feel pain when you lift heavy objects, cough, strain during urination or bowel movements or with prolonged standing or sitting.

The discomfort may be sharp or a dull ache that gets worse towards the end of the day. Any continuous or severe discomfort, redness, nausea or vomiting associated with the bulge are signs that the hernia may be entrapped or strangulated. These symptoms are cause for concern and immediate contact of your surgeon is recommended.

WHAT CAUSES A VENTRAL HERNIA?

An incision in your abdominal wall will always be an area of potential weakness. Hernias can develop at these sites due to heavy straining, ageing, obesity, injury or following an infection at that site following surgery. They can occur immediately following surgery or may not become apparent for years later following the procedure.

Anyone can get a hernia at any age. They are more common as we get older. Certain activities may increase the likelihood of a hernia including persistent coughing, difficulty with bowel movements or urination, or frequent need for straining.

WHAT ARE THE TREATMENTS FOR VENTRAL OR INCISIONAL HERNIA?

Different methods are used for managing ventral hernia, with the laparoscopic repair being the most chosen.

When suitable surgery often considered the best modality of treatment, otherwise a hernia belt or binder may be considered.

Common surgeries performed for the management of ventral hernia include:

Open Hernia surgery
Laparoscopic ventral incisional hernia surgery
Robotic ventral hernia surgery

WHAT HAPPENS IF VENTRAL OR INCISIONAL HERNIA ARE NOT TREATED?

A hernia does not get better over time, nor will it go away by itself.

Overtime they tend to enlarge, stretch the skin and become more prominent and painful

The contents of the hernia may become trapped or lose their blood supply requiring an emergency operation or even bowel removal.

WHAT ARE THE ADVANTAGES OF LAPAROSCOPIC VENTRAL HERNIA REPAIR?

Results may vary depending on the type of procedure and each patient's overall condition. Common advantages may include:

Less post-operative pain
Shortened hospital stay
Faster return to regular diet
Quicker return to normal activity
Less wound infections
Smaller incisions