Weight loss (Bariatric) Surgery
WHAT TREATMENTS ARE AVAILABLE FOR WEIGHT LOSS?
Problematic excess weight can lead to medical, psychological and social difficulties.
When excess weight becomes problematic laparoscopic weight loss surgery is considered the best modality of treatment. Common treatments performed for the management of obesity include:
Diet and exercise programs
Weight loss medications
Laparoscopic weight loss surgery
Endoscopic weight loss treatments
When people are very heavy, especially when this leads to problems, such as diabetes, conventional diet and exercise programs may not be successful. Several medications and endoscopic therapies are available, but to date are largely unproven, when it comes to long lasting weight loss and remission of diabetes.
WHAT ARE THE RISKS OF UNTREATED OBESITY?
Without treatment obesity can lead to
Diabetes and its complications
Joint problems and osteoarthritis
Heart disease and stroke
Sleep apnoea
Reproductive problems
Anxiety and depression
Social stigmatisation
WHAT ARE THE ADVANTAGES OF LAPAROSCOPIC OBESITY SURGERY?
Results may vary depending on the type of procedure and each patient's overall condition. Common advantages may include:
Fast recovery from surgery
45-70% excess weight gain by 2 years
Quick return to normal activity
Improved diabetic control
Small incisions
AM I A CANDIDATE FOR OBESITY SURGERY?
At your consultation, the team at the BodyFree clinic will determine whether laparoscopic weight loss surgery is right for you. To book an appointment, register for a telehealth consultation or more information contact us on 02-9565-5505.
WHAT PREPARATIONS ARE REQUIRED FOR OBESITY SURGERY?
After discussing the options and potential risks you will need to provide written consent for surgery.
Do not shave or exfoliate your abdomen wall as this can lead to increased chance of infection, when shaving is required it is done immediately prior to surgery while under anaesthetic.
It is recommended that you shower the night before or morning of the operation.
It is highly recommended and sometimes required that you quit smoking prior to surgery
You should continue to exercise up to the time of surgery unless exercise is causing pain.
You should also follow the pre-operative dietary advice from your dietician, including the 2 weeks very low calorie diet (VLCD), in order to reduce complications of surgery.
HOW IS OBESITY SURGERY PERFORMED?
Laparoscopic weight loss surgery is performed using 5 small key hole incisions on the abdominal wall. A thin surgical telescope and specialised laparoscopic instruments are used to perform surgery. Surgical stapling devices are used to reduce the functional size of the stomach and sutures are used to join the stomach to the bowel (bypass).
There are three main options available for a patient with a complicated obesity,
Laparoscopic Sleeve Gastrectomy (Gastric Sleeve)
In this procedure the larger portion of the stomach is removed leaving a thin narrow tube-like stomach. Removing the larger portion of the stomach removes the area responsible for hunger hormones and the narrow tube-like stomach means that people feel full after eating. The Gastric Sleeve or Laparoscopic Sleeve gastrectomy is the most chosen surgical option.
Advantages
Excellent long-term weight loss
Ability to eat 'normal foods' after recovery
Lowest risk and minimal side effects
Improvement in diabetes
Disadvantages
Non-reversible
Lowest risk of nutritional problems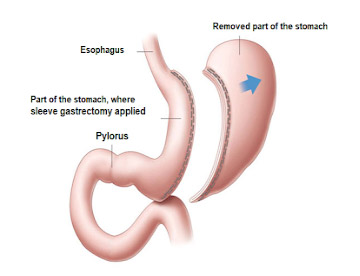 The Laparoscopic Mini Bypass (single anastomosis)
This procedure begins by making a slender tube similar to a sleeve gastrectomy; however, the bypassed portion of the stomach is not removed. Instead the small bowel (jejunum) is sutured to the tube-like stomach. Only one join (anastomosis) is required and the amount of small bowel bypassed can vary.
Advantages
Excellent long-term weight loss
Ability to eat 'normal foods' after recovery
Lower risk compared to conventional gastric bypass
Greater improvement in diabetes compared to LSG
Disadvantages
Higher risk of nutritional deficiency compared to LSG
More reflux than gastric bypass
Dumping syndrome can occur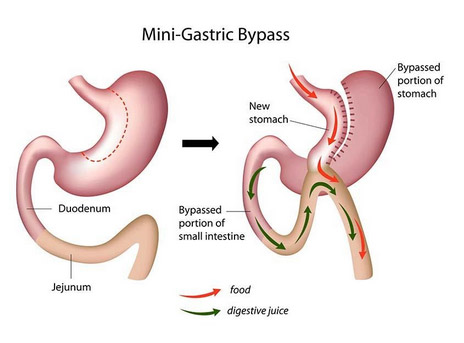 The Laparoscopic Gastric Bypass (Roux-en-Y or dual anastomosis)
A Roux-en-Y gastric bypass is a dual anastomosis procedure whereby a small pouch of stomach id formed, before two intestinal joins (anastomosis) are performed. The small bowel (jejunum is joined to the gastric pouch and then the small bowel is also to another 'loop' of small bowel. This forms a Y-shaped configuration. The complexity of this operation means that it takes longer than other obesity surgeries and may be associated with a wider range of complications.
Advantages
Excellent long-term weight loss and maintenance.
Gold standard bariatric procedure
Very good chance of remission in diabetes
Less reflux than LSG or mini bypass
Disadvantages
Most complex procedure with highest risk profile
Highest risk of long-term nutritional deficiency
More reflux than gastric bypass
Dumping syndrome can occur
WHAT SHOULD I EXPECT THE DAY WEIGHT LOSS SURGERY?
You usually arrive at the hospital the morning of the operation.
A qualified medical staff member will typically place a small needle or catheter into your vein to dispense medication during the surgery. Often pre-operative medications, such as antibiotics, may be given.
You will have a full general anaesthetic.
Following the operation, you will be taken to the recovery room and remain there until you are fully awake.
Many patients go home the same day of surgery, while others may need admission for a day or more post-operatively. The need to stay in the hospital will be discussed with you prior to surgery.
https://www.keyholesurgeon.com.au/pre-operative-instructions-sydney-randwick.html
WHAT SHOULD I EXPECT AFTER WEIGHT LOSS SURGERY?
Patients are encouraged to engage in light activity while at home after surgery. Your surgeon will determine the extent of activity, including lifting and other forms of physical exertion. Follow your surgeon's advice carefully.
Post-operative discomfort and nausea is usually mild to moderate. Pain killers will be prescribed to you to take home
If you begin to have fever, chills, vomiting, are unable to urinate, or experience drainage from your incisions you should call the Bodyfree clinic immediately.
Most patients can get back to their normal activities in a short period of time. These activities include showering, driving, walking upstairs, work, and sexual intercourse**.
** Female patients should use contraceptives (or abstinence) to prevent pregnancy for the first 12 months after surgery. This is because weight loss surgery may increase fertility and pregnancy within 12 months of pregnancy can lead to preterm delivery and low birth weight
Occasionally, patients develop a lump or some swelling in the area of the incisions
Post -operative dietary instructions will be discussed prior to surgery and a chart given to you on discharge.
You should ask when you need to schedule a follow-up appointment. Typically, patients schedule follow-up appointments within 3-4 weeks after their operation.
WHAT COMPLICATIONS CAN OCCUR?
The risks of surgery will be discussed with you at your consultation
Specific risks may include during the operation may include, bleeding or bruising, pain, injury to the abdominal organs or bowel, infection and nausea can occur
Blood clots in the legs (DVT), Lungs (PE) or the blood vessels of the abdomen can occur which are treated with blood thinning medications
Leakage from a staple line or one of the intestinal joins is one of the most serious complications of this surgery. Further procedures may need to be performed if this occurs and an extended stay in hospital may be required.